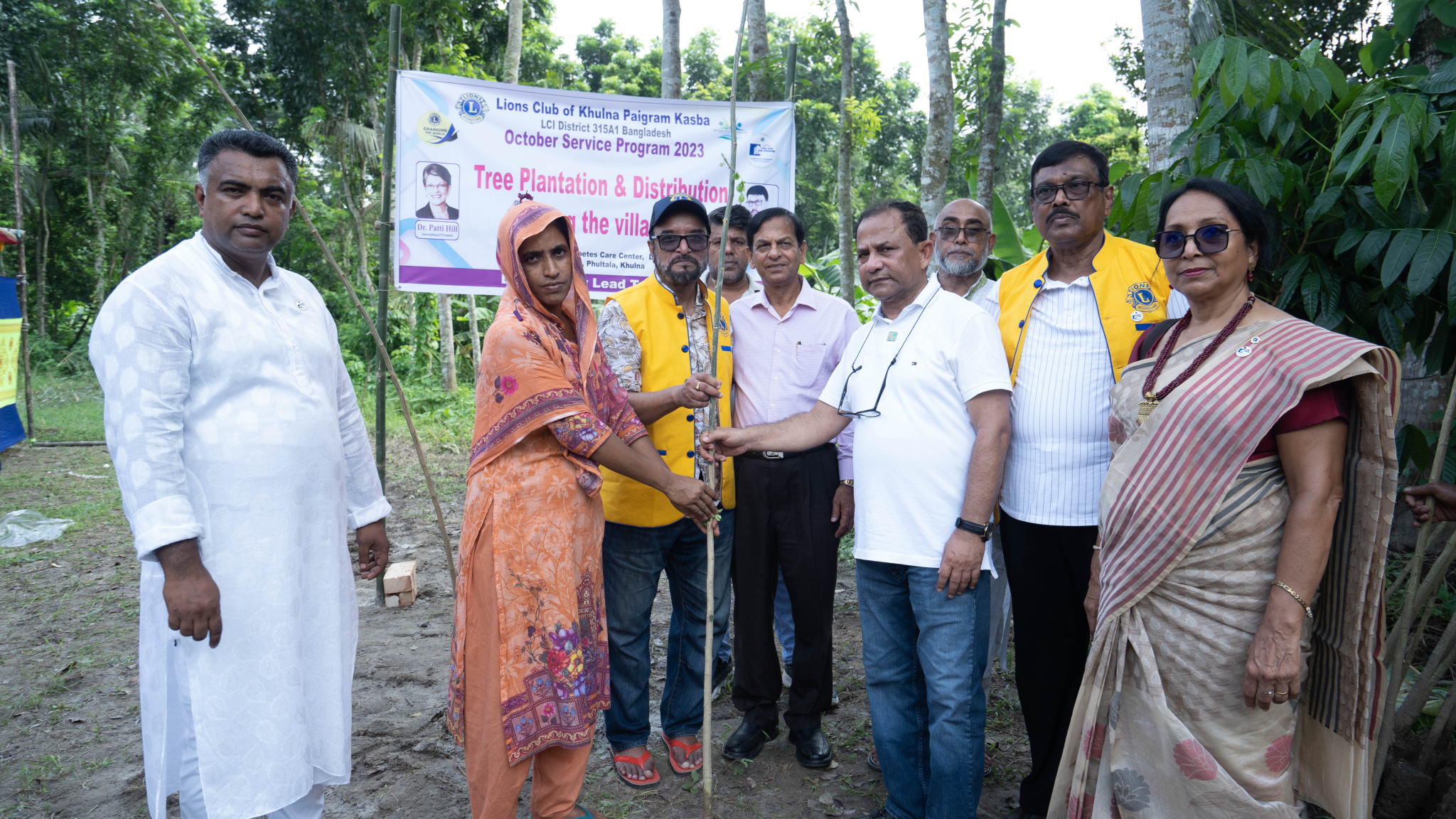 Bellal Hossain
Environment
CA6 – Isame
Khulna Paigram Kasba Lions club (139237) Arrange Tree Plantation & Distribution under October Service Program 2023.

Trees are not just a vital part of our environment, but they are also the very essence of life on Earth. Today, we come together to reaffirm our commitment to our planet and our future generations by planting and distributing trees.

As we all know, trees play a pivotal role in maintaining the delicate balance of our ecosystem. They provide us with oxygen, absorb harmful carbon dioxide, stabilize the soil, and offer shelter and sustenance to countless species of flora and fauna. Moreover, they enhance the beauty of our surroundings and provide shade and solace in the scorching heat of summer. In short, they are the unsung heroes of our planet.

However, despite their undeniable importance, our world is facing a grave challenge – deforestation and the loss of green cover. Urbanization, industrialization, and various other human activities have led to the rapid depletion of our forests, resulting in climate change, loss of biodiversity, and adverse effects on our health.

But, we are not here today to lament the problems. We are here to be a part of the solution, to take action, and to make a difference. Each tree we plant today is a small but significant step towards a greener and healthier planet. It is an investment in our future and an act of love and responsibility towards the environment.
I want to express my heartfelt gratitude to all the club members & volunteers of Khulna Paigram Kasba Lions club who have made this event possible. Your support and commitment to environmental conservation are commendable, and we are grateful for your partnership.
Today, as we plant and distribute trees, let us remember that our responsibility does not end here. It's essential to care for these trees, nurture them, and ensure their growth. It is also crucial to spread awareness about the significance of trees and inspire others to join us in this noble cause.

As we move forward, let us pledge to make tree planting a regular activity in our lives, not just an event. Let us incorporate the idea of sustainability into our daily routines, from planting trees in our own gardens to supporting reforestation efforts worldwide. Together, we can create a more sustainable, greener, and healthier world for ourselves and future generations.