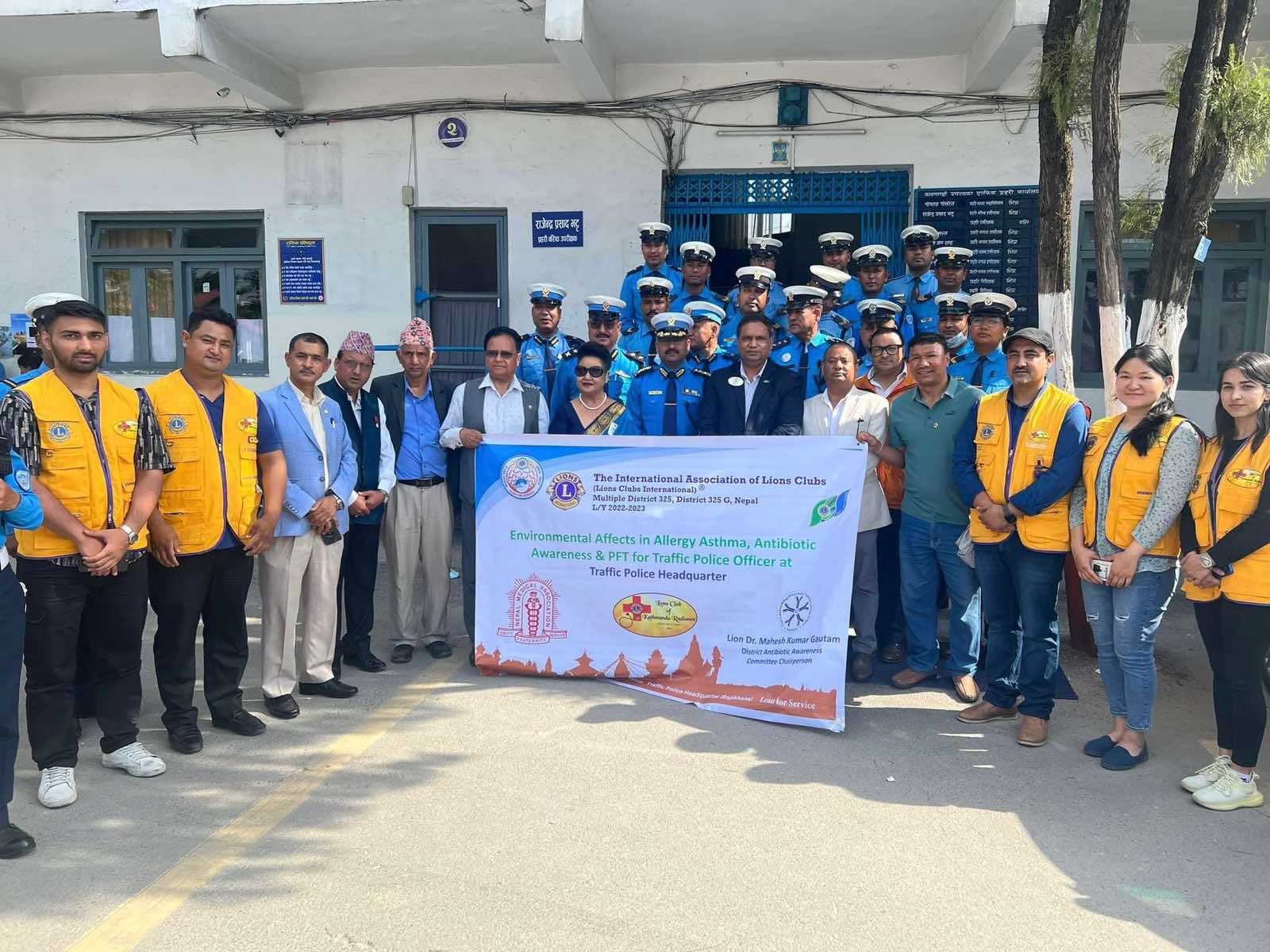 Dr. Tejsu Singh Malla
Environment
CA6 – Isame
Lions Club of Kathmandu Radiance- A specialty club of Medical doctors, District 325 G, MD 325
Recipient of Club Excellence Award LY 2021/22
Club of Month " July' LY 2022/23
Club of Month " Nov" LY 2021/22

They keep us safe, by keeping the road safe. They stand on sunny days, and we see them standing on rainy days. They spend long hours in an environment polluted with exhaust fumes from vehicles and dust, posing serious health hazards. A hero coming to the aid of another, that's what we did on 1st June 2023. We at Lions Club of Kathmandu Radiance- A specialty club of medical doctors-initiated and supported our District 325 G program on "Environmental Affects in Allergy Asthma, Antibiotic awareness & PFT for Traffic Police Officer at Traffic Police Headquarter."
The 1st of a kind event, and now adopted as a signatory project of Lions Club of Kathmandu Radiance, we serve through our Lions International global cause "Environment".
It is reported that Every day 50 traffic police personnel fall ill daily due to hazardous dust. It is not a new known fact, that traffic police personnel are continuously exposed to vehicular emissions and air-polluted environments and have a higher risk of developing different types of respiratory problems.
Air pollution has become a serious concern and a public health risk, it is already several times higher than the WHO fer limit which makes it unhealthy to live. Kathmandu is the 5th most polluted city in the world. Significantly fewer had previously attended occupational hazards prevention skill training and seminar. The program was also supported by the Nepal Medical Association and the pediatric asthma allergy immunology Practitioner's Society of Nepal (PAAIPSON).
The Program was presided by the District Chairperson of the Antibiotics Awareness Committee Lion Dr. Mahesh Kumar Gautam. Chief Guest of the program, Deputy Inspector General Posharaj Pokharel, Head of Kathmandu Valley Traffic Police Office thanked Lions for organizing such an effective program that focused on the occupational hazard of traffic police personnel and hoped that similar programs would be continued in the future. Guest of Honour District Governor Lion Uttam Jha, PMJF, LCIP, District 325 G thanked the keynote speaker for his presentation which would be beneficial to the traffic police personnel. He further explained the 5 global causes of Lions and encouraged the Lions Club of Kathmandu Radiance to have this project as one of its signatory projects.
Presence in the program as Special Guest, Dr. Anil Karki, Dr. Prakash Budathoki, and Dr. Sanjib Tiwari President, Vice President of Bagmati Province and secretary Nepal Medical Association respectively, District 325 G 1st Vice District Governor Elect Dr. Kamal Kayastha, 2nd Vice District Governor Elect Lion Vidhan Joshi, PMCC Kayam Uddin, PDG Dr. Sushila Malla, District Treasurer Lion Gokul Prasad Prajapati, district treasurer designated lion Agni Bilas Adhikari, District Global Service Team (GST) Coordinator Lion Chandra Bahadur Dahal, District Global Leadership Team (GLT) Coordinator Lion Bijay Hachhethu, Zone Chairperson and Charter Club president Dr. Tejsu Singh Malla, MJF, Dr. Rabin Basnet- Club President-elect, Dr. Pasang Lamu sherpa, Leo club president-elect Aseem Wagle, and Leo club treasurer-elect Anuradha Poudel.
We thank our keynote speaker Dr. Mahesh Kumar Gautam for his keynote presentation serving 80+ traffic personnel who also received a free Pulmonary Function test.
This Innovative idea from our Lions Club of Kathmandu Radiance has resulted in the adoption of this project as one of our Signatory Projects, the other being Vision.