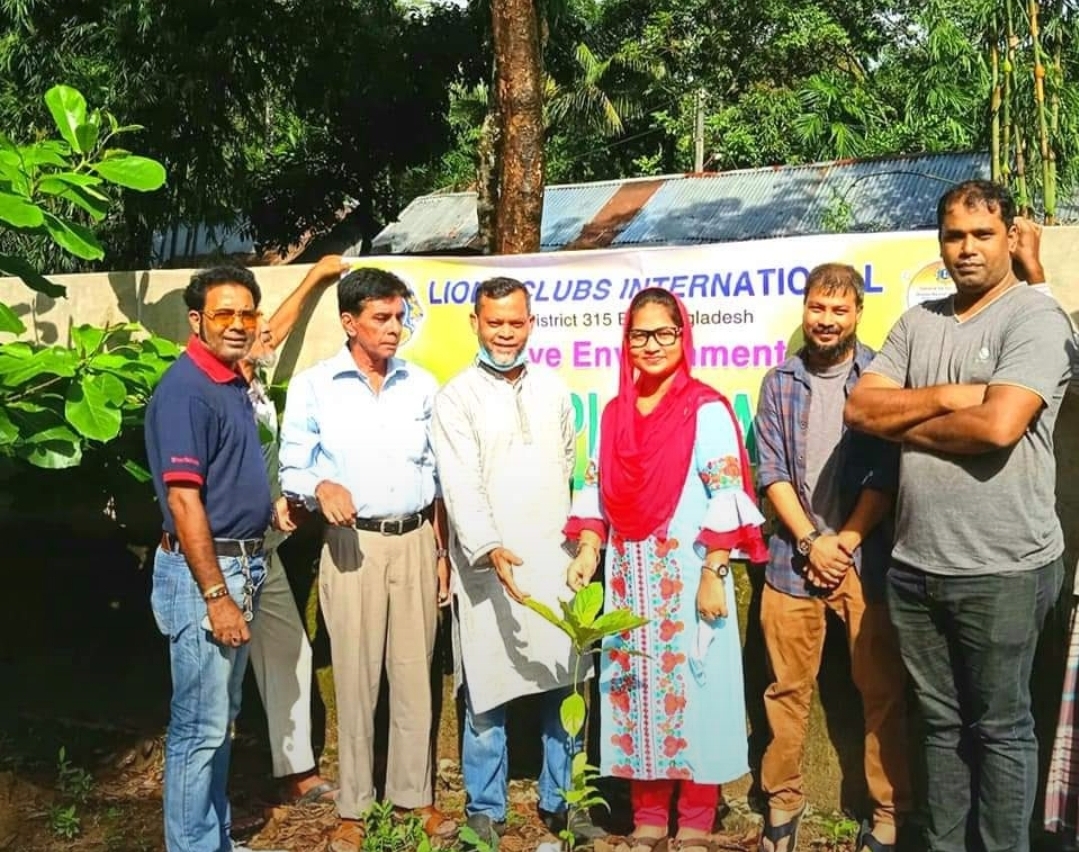 Mahfuz Hassan
Environment
CA6 – Isame
Once upon a time, in the small town of Sylhet City Lions Club 315 B1, Lions Clubs International decided to embark on a tree plantation program The members of the club, passionate about environmental preservation and the well-being of their community, came together to make a positive impact on their surroundings.

With great enthusiasm, the Lions Club members organized a community-wide event to kickstart their tree plantation program. They reached out to local residents, schools, and businesses, urging them to join hands in this noble endeavor. The spirit of unity and the shared vision for a greener and healthier environment brought from all walks of life together.

designated day, the community gathered at a spacious open ground, armed with shovels, saplings, and smiles. The event began with Lions Club members addressing the gathering, emphasizing the importance and benefits of tree plantation. They spoke about trees play a crucial role in reducing pollution, improving air quality, providing habitats for various species of birds.

Eager participants lined up, awaiting their turn a small hole, place a sapling into the ground, and gently cover its roots with soil. The ground soon transformed into a vibrant spectacle of green, as saplings were carefully planted one after another. Children, grinning from ear to ear, their responsibilities seriously, ensuring the saplings received the love and care they to thrive.

Throughout the day, Lions Club members provided guidance and assistance, ensuring that each participant understood the correct way to plant a tree and encouraging everyone to develop a personal connection with the newly planted saplings. They explained how these trees would become a living testament to their collective efforts and a source of pride for generations to come.

As the sun started to set, the community stood back to admire the transformation they had brought about in their town. The once barren ground now boasted a beautiful forest of young trees, swaying gently with the breeze. The sight filled everyone's hearts with joy and a sense of accomplishment.

The Lions Club members, grateful for the overwhelming community response, expressed their gratitude and shared their hope for a greener and more sustainable future. They dedicated themselves to nurturing the newly planted trees, ensuring their survival and growth, and pledged to continue organizing such initiatives to make their town a greener and brighter place.

The tree plantation program by Lions Clubs International in 315 B1 had not only brought the community together but had also instilled a deep sense of environmental responsibility. Inspired by their success, the residents of Sylhet City Lions Club 315 B1 began to take further steps towards nature and promoting sustainability in their daily lives.

And so, the small town of Sylhet City Lions Club 315 B1 thrived in its endeavor to create a greener and healthier environment, thanks to the visionary actions of Lions Clubs International and the united efforts of its community. The story of their tree plantation program served as a that it only takes a few passionate individuals to make a significant difference.