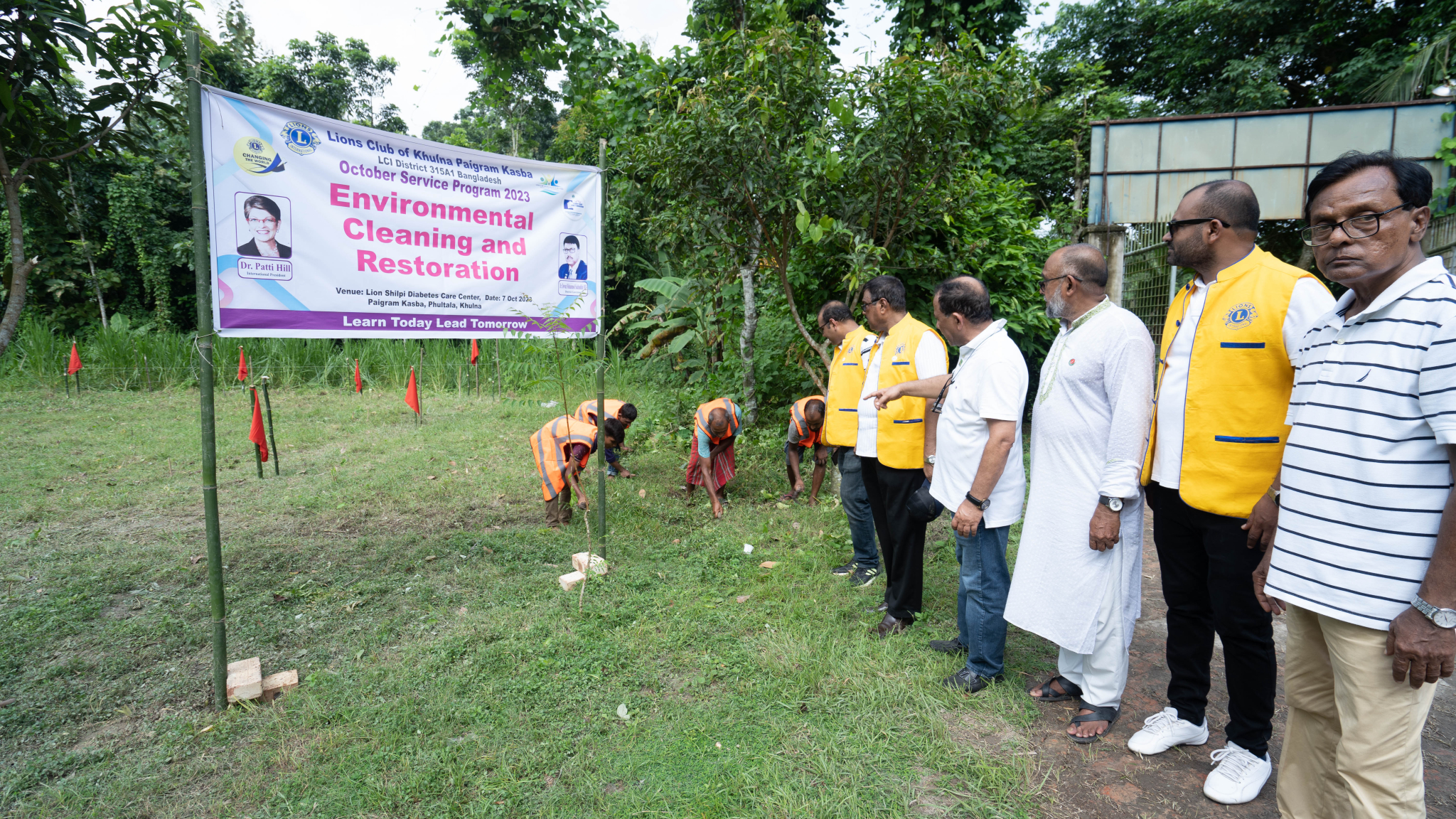 Bellal Hossain
Environment
CA6 – Isame
Ladies and gentlemen,
Good Morning,
I (Abid Habib) stand before you today with immense pride and gratitude as we come together to celebrate an exceptional initiative undertaken by the Khulna Paigram Kasba Lions Club—a project dedicated to environmental cleaning and restoration. This endeavor reflects a commitment to our environment, our community, and the well-being of future generations.
In a world where environmental challenges are becoming increasingly severe, taking proactive steps to clean and restore our surroundings is not just a responsibility; it is an urgent necessity. The consequences of neglecting our environment are evident in the form of pollution, climate change, loss of biodiversity, and various other ecological crises.
The Khulna Paigram Kasba Lions Club deserves commendation for recognizing the importance of this issue and taking meaningful action. By spearheading this initiative, they are not only setting an example for others to follow but also showing that local communities can make a significant difference in the global fight against environmental degradation.
Let's take a moment to reflect on the significance of environmental cleaning and restoration:
1. Preservation of Natural Beauty: Our environment's natural beauty is a source of inspiration and solace. When we clean and restore our surroundings, we are preserving the inherent beauty of our region for current and future generations to enjoy.
2. Protection of Ecosystems: Ecosystems provide essential services such as clean air, clean water, and fertile soil. When we restore these ecosystems, we are safeguarding these critical services that support life on Earth.
3. Mitigating Climate Change: Environmental restoration efforts, such as reforestation and wetland restoration, play a vital role in sequestering carbon dioxide and mitigating the effects of climate change.
4. Community Well-being: A clean and healthy environment directly contributes to the well-being of our community members. It improves public health, reduces the incidence of diseases, and enhances the overall quality of life.
The Khulna Paigram Kasba Lions Club's commitment to environmental cleaning and restoration is not just a one-time event. It represents an ongoing dedication to our environment. It signifies a willingness to get our hands dirty, quite literally, to make our surroundings cleaner, greener, and more sustainable.
I encourage each one of us here today to support and participate in such initiatives. Whether it's by volunteering our time, contributing resources, or simply adopting more sustainable practices in our daily lives, we can all play a role in protecting and restoring our environment.
In closing, I want to express my heartfelt appreciation to the Khulna Paigram Kasba Lions Club for their exceptional work in environmental cleaning and restoration. Your efforts are not just improving our local environment; they are also inspiring others to take similar action.
Let us all pledge to continue this vital work, for the sake of our environment, our community, and our shared future. Together, we can create a world that is cleaner, healthier, and more sustainable for all.
Thank you, and may this initiative continue to thrive and grow.